Advances in technology and information have an impact on the business world. Oftentimes, HR personnels are unable to find candidates who can fulfill the company's changing requirements. This is where the skills gap develops.
For this reason, HR personnels must understand how to overcome the skills gap and upskilling candidates' capabilities. If HR personnels are able to overcome this issue, then the company can produce a successful recruitment process.

Why Overcome Skills Gap and Upskilling Candidates' Capabilities?
As one of the HR's challenges in the recruitment process, skills gap needs to be taken into consideration. At this point, the United States is in a significant level of skills gap in so many industries. Started several years ago, about 68% of employers had open positions that they couldn't fill with skilled employees.
The existence of a skills gap in the competency of a candidate can have a negative impact on the company. For instance, an ineffective work space, employees unable to perform their tasks optimally, a decline in the company's performance, etc. This is the reason why HR personnels need to overcome the skills gap and upskilling candidates' capabilities sooner or later.
Furthermore, the impact of the skills gap is felt between candidates and the company's expectations. These are various impacts from the skills gap:
? Additional costs for employee training— Most HR professionals are forced to hire freelancers who have the required skills. Thus, resulting in additional costs for training candidates.
? Time wasted by selecting the wrong candidate— This resulted in the development of the company being hampered. The impact is most influential on the company's densed working hours.
? A decline in the company's productivity— This can result in loss of revenue as well as client dissatisfaction.
? Inability to compete— The company's decline caused by the skills gap will provide opportunities for competitors to take over.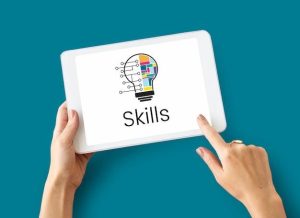 Ways to Fix Skills Gap and Upskilling Candidates' Capabilities
Despite being a serious threat to a company's productivity, the skills gap is not an insoluble problem. There are several things that HR personnels can do to minimize this gap:
? Upskilling— Upskilling is always related to soft skills or an individual's basic attitudes. Such as a sense of responsibility, discipline, professionalism, etc. Therefore, the main focus here is related to candidates' capabilities to adapt in a new work environment. As stated in the World Economic Forum (2022), 54% of all employees will need great upskilling and reskilling capabilities.
? Reskilling— Reskilling is the process of learning new skills of employees to move into new roles within their current company. Here, the candidates really have to learn a new skill from the training program. Reskilling is usually related to candidates' hard skills or technical abilities. For example, skills in accounting, maintenance, field technicians, etc.
? Seeking candidates with required skills— It's essential for HR personnels to seek suitable candidates with skills that match the vision and mission of the company. So, how can HR personnels find the right candidate? They must go through a recruitment and selection training process from professional networks.
? Evaluating candidates for compatibility— Skills gap will occur in any company and industry, no matter what. With the right improvisation and analysis, the skills gap can be fixed. HR personnels can evaluate candidates to adapt to particular skills and requirements. This can be done by conducting a structured interview.
? Provide employee training and development— The skills gap can be overcome by providing more opportunities for training and development. This is done so that employees can acquire the skills they need to be successful. For instance, this can be done through on-the-job training, mentoring programs, and educational opportunities. Hence, by providing candidates with new opportunities, they will handle job challenges well and contribute to the company's success.
Examples of Upskilling Programs That Can Be Used as Inspiration
Upskilling programs really need the company's full attention every step of the way. Specifically for HR personnels, these are programs to be used as a reference most suitable for your company.
e-Learning
Employees, managers, or anyone else in training, can access the e-learning materials at their own pace. However, HR personnels should keep monitoring the progress of their employee's upskilling process on a regular basis. This aims to ensure that all upskilling results can be obtained optimally.
Coaching
Coaching can be done by anyone involved in the company— HR personnels, managers, team leaders, etc. Or else, a company may choose to hire a private coach. Hence, this program provides an increase in employee engagement and good teamwork.
Job rotation
Job rotation helps HR personnels find compatible candidates and transfer new responsibilities at higher positions. Hence, it is used to place the right person in the right position. The goal is to enhance employee work experience, increase retention, and improve job satisfaction.
Innovative training providers
If there's a large number of people involved, it would be better to use innovative training providers. Thus, using direct training from experienced instructors. Training providers are growing rapidly. In line with the increasing needs of companies for training programs that are flexible, affordable, accessible, and interactive.
Job enlargement and job enrichment
Job enlargement is a practice in which employees do more work than they are used to. Meanwhile, job enrichment is a practice in which there is an added dimension to the current job, including new authority. Both are additional tasks and responsibilities that will encourage candidates to learn and try more things.
Blended learning
As we enter an advanced technological working place, blended learning is a great way to upskilling candidates' capabilities. It's all about mixing physical and virtual elements in the process. Or, using the internet and implementing learning as conventional classes in general. The advantages of blended learning make this program increasingly used by many companies. Mainly, to improve the performance and productivity of their employees.
Final Thoughts
Overcoming the skills gap and upskilling new capabilities requires effort both from the employer's and candidates' side. Employers should be aware that candidates may not have a complete package of requirements. Employers must view their candidates as individuals who are willing to learn and grow with the company.
Therefore, employers and candidates should consider expanding their capabilities through upskilling programs that focus on essential skills. Thus, creating a win-win solution!